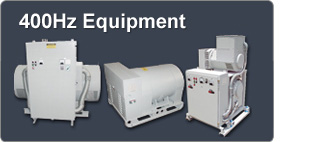 When a fixed frequency of 400HZ power is needed, Motor-Generators are generally used and work well at providing "bulk power" (power which is distributed to various loads), or loads with unknown electrical characteristics. Other applications for 60/400HZ Motor-Generators include commercial aircraft galley equipment, navigation instruments, telecommunications, chilling systems, lighting, power control units, temperature controllers, radar, avionics, military aviation, and ground support equipment. Motor-Generators are especially tolerant to loads with motors or other loads which require higher current when first energized than when operating (referred to as inrush current). MG sets typically offer an output voltage adjustment range of +/-8% or more.
Motor-Generator based frequency converters are naturally robust and can be operated in less desirable environments than its Electronic based counterpart. Learn More…
Benefits and Features of Motor-Generator Products
We optimize our rental Motor-Generator sets for rental use providing our rental customers with many built-in benefits, enabling us to retain rental customers year after year. These benefits include:
Quick & easy installation by design. Each rental MG Set is configured to help minimize the installers' time. Only connection of input and output cables to clearly marked and easily accessed terminals is necessary. Every MG Set is furnished with an abbreviated Installation & User Guide sheet that helps to eliminate wasted time reading through equipment Owners & Users manuals.

Rigorously maintained & fully load tested equipment provides our rental customers with peace of mind, and assurance of equipment reliability. We refurbish our rental Motor-Generators on an on-going basis.

True synchronous ac motor operation, guaranteeing exact 400HZ output frequency with 60HZ input. This helps to insure accurate test results of the UUT or that your load equipment is operating properly from a fixed frequency source. Nearly all rental Motor-Generator sets operate from three phase input power.

Precise output voltage regulation of +/-1% or better helps to insure accurate test results of the UUT or that your load equipment is operating properly from a fixed frequency source. In addition, the output voltage is adjustable +/-8% or more on many models.

Built-in over-voltage monitor protects your connected load equipment from a detected 400HZ over-voltage condition. This helps to insure electrical safety of the connected load.

The built-in output circuit breaker electrically protects the generator windings and power wiring to the load. The circuit breaker also provides a method to manually disconnect the 400HZ output power to your connected load without the need to shutdown the MG set. Installation is simplified, so there is no need for the installer to supply and install and external circuit breaker.

Unit-mounted control panel negates the need for the installer to interconnect the Motor-Generator portion to the MG Control panel during installation. The installer needs only to connect input cables from the utility power source, and the output cables from the MG output terminals to the connected load. All customer power connection terminals are clearly marked for easy, quick installation.

Extremely Simple / Intuitive Operator Controls enable the user to quickly put the MG set into service without the need to study a complicated operators manual.

Input & output metering allows the equipment operator to monitor the Motor-Generator input and output voltage and current. Metering is provided on many of our rental Motor-Generator frequency converters.

A Specially Designed Heavy-duty shipping pallet is provided for each rental Motor-Generator frequency converter. The heavy-duty pallet is specially designed for easy movement the MG Set into place by forklift or pallet jack. Nearly all of our rental customers leave the MG set bolted to the pallet during the rental period use.

Place Your Rental Order Now!

There is a minimum amount of technical information needed in order to make an informed decision on the type and rating of the rental frequency converter needed. We make it easy to order (NO FORMS TO FILL-IN) by providing 2 different methods to order.

ORDER BY TELEPHONE. Most of our rental customers prefer to call our experienced application engineers at 714-540-9010, requesting assistance. We work together with you discovering the needed technical data.

ORDER BY EMAIL. Contact Us by email with your general request, and our application engineer will contact you as soon as possible to assist you with the rental frequency converter selection process.

Use our informational links below if you choose to make a review of the needed technical data before contacting us.

Technical Specifications will help to familiarize you with the electrical characteristics of your UUT or load, Motor-Generator and Electronic Based frequency converters.

Selection Check List provides a step-by-step method to uncover the primary technical data needed for frequency converter selection.

Electrical Output Configuration Diagram offers single phase and three phase electrical configuration diagrams to help you determine the configuration that meets the needs of your application.>

FC Output Amps Charts can be used to determine the frequency converter output KVA, KW, or current needed for your UUT or connected load. Single phase and Three phase charts are provided.

Aero 400HZ Voltages provides discussion on standard voltage levels and number of phases of 400HZ power systems.