Advanced Power & Controls, LLC ™ manufactures and distributes Power Conversion Equipment meeting the needs of the planet. We provide Electronic based and Motor-Generator based Frequency Converters converting 60HZ to sine wave output of 50HZ, 400HZ and Adjustable frequency.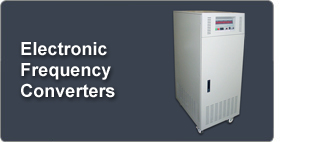 Our AFP2 & AFP3 Electronic Frequency Converters offer fixed, or adjustable output voltage &/or frequency. These models are most popular with Research & Development engineers, test departments & testing labs. Digital/Analog IGBT Power control technology provides tightly regulated output voltage & frequency parameters. To learn more about our single or three phase
electronic frequency converters make your selection below or continue to our website.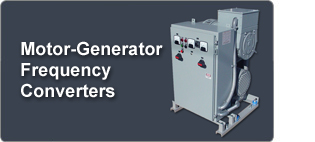 Our robust Motor-Generator Frequency Converters provide fixed output frequency and are known for high reliability while operating in less than ideal environments. Our most popular models AFCB 60/50HZ and AFCF 60/400HZ provide exact output frequency at any load, helping to insure meaningful test results of your UUT or proper operation of your load equipment.
All models utilize a heavy-duty welded steel frame with built-in vibration isolation. Easy installation and operation.
To learn more about our single or three phase Motor-Generator frequency converters, make your selection below, or continue to our website